WHO WANTS TO CALL ME  NUTS  NOW  ?
Regulators in the United States and Europe have imposed $342 billion of fines on bankssince 2009 for misconduct, including violation of anti-money laundering rules, and that is likely to top $400 …

From 2015  Now
4 Years Ago
Lets Just Call it  THE GREAT AMERICAN LAUNDRY …..  The VAST RICHES of Intentionally Purposely by Design   DISTRESSED  REAL ESTATE.   Making a Fortune from  SUBPRIME LENDING SCAMS  and  FORECLOSURES.
Ms. McFadden said she had told her superiors that dozens of politically exposed clients of the private-banking division, including Mr. Trump and members of his family, were not receiving that added attention.
Her superiors told her to stop raising questions, according to Ms. McFadden and the two former managers.
After taking her complaint to the human resources department, Ms. McFadden was transferred to another division. She was terminated in April 2018. The bank told her that she was not processing enough transactions. 
Deutsche Bank, Bank of America, JP Morgan Chase, Wells Fargo  Etc Etc Etc
     The Root of ALL EVIL …. Crooked Ass  DOJ  and  FBI Agents in Bed with the  BANKSTERS and the MINIONS of  Dirty Flipping Daisy Chaining  Realty and Title Insurance CRIMINALS
Maxine Waters: We know that Deutsche Bank is one of the biggest money laundering banks in the country, or in the world perhaps.   And we know that this is the only bank that will lend money to the president of the United States because of his past practices. He won't show his tax returns and we have a certain information that leads us to believe that there may have been some money laundering activity that might have been connected with Mr. Manafort, with some people in his family.
       The FED RESERVE and CONGRESS Quantitatively IMAGINEERED as many as 16 TRILLION in Key Stroked Printed FIAT Reserve Notes for the BANKSTERS ….. Fact is ALL Legal Tender ( Not Specie ) is so IMAGINEERED.
fortune.com › Finance › Subprime Loans
[PDF]
We just got a glimpse of the coming lines of defense for the deposed political cabal that formerly ran the FBI, as well as the limits of loyalty among them.
Feb 15, 2013 – of information and risk in the mortgage securitization industry. … securities underwriting, and shadow banking sectors have been implicated in ….. In the case of looting, actors choose instead to bankrupt their firms intentionally because they ….. mortgage fraud by loan officers, real estate agents, appraisers, …
September 10, 2018
In April 2018, The New York Times reported that Deutsche Bank would shift its focus from Wall Street to Europe. A month later, Deutsche Bank confirmed that it was laying off 10,000 U.S. employees. Deutsche Bank leaves a trail of destruction in cities and towns across the U.S. In the last 15 years, Deutsche Bank committed widespread foreclosure fraud, securities fraud, tax fraud and rate-rigging. The bank paid out over $10 billion in settlements with the government and over a billion more to settle lawsuits by pension funds, investment groups, cities and states. Billions in liability remain as securities lawsuits and rate fixing lawsuits work their way through the courts.
During the foreclosure crisis and beyond, Deutsche Bank was the poster child for bad banking and unethical practices. Deutsche Bank was known for its rush to foreclose, and was widely referred to as "America's Foreclosure King." Deutsche Bank's primary tactic was to simply overpower its homeowner opponents. Deutsche Bank relied on the economic reality that most homeowners in foreclosure would default when facing court action. Unable to afford an attorney and unwilling to face a court on their own, the majority of homeowners walked away, abandoning their homes after being served with court documents. Deutsche Bank often employed the shadiest of lawyers, those who would eventually be suspended or disbarred and sanctioned.[1]
In tens of thousands of cases, Deutsche Bank claimed the right to foreclose even though it could not produce the documents that supported its claim. Deutsche Bank claimed that the documents had been "lost, stolen or destroyed." In the cases where a homeowner did attempt to respond, Deutsche Bank often simply dismissed the action it had filed, then came back a few months later, when the homeowner's economic situation had become even more desperate.
When Deutsche Bank won in court, most neighborhoods lost. Deutsche Bank often abandoned the homes they had successfully claimed and left them to deteriorate. In 2008 and 2009, Deutsche Bank often owned more homes than any property owner in many counties. In three counties in South Florida in 2011, Deutsche Bank owned more than 1,400 homes.[2] Neighbors posted signs in front of houses owned by Deutsche Bank: "Rats in there, Bank don't care." Cities and counties regularly sent crews to houses owned by Deutsche Bank, to board up the smashed windows, cut the overgrown grass and weeds, and post "No Trespassing" signs. The cities filed liens against the properties for the expense of these maintenance efforts, and the liens piled up along with the debris.
In 2011, the City of Los Angeles, the second largest U.S. city, sued Deutsche Bank, the world's 4thlargest bank, calling the bank a slumlord.[3] The city claimed that Deutsche Bank took title to more than 2,000 residential properties, but then allowed those vacant properties to turn into nuisances. According to the city, Deutsche Bank failed to maintain occupied properties, and illegally evicted tenants when a sale finally became possible. Deutsche Bank blamed the loan servicers, but eventually settled with the city for $10 million.
In 2018, the National Fair Housing Alliance ("NFHA") and 19 Civil Rights Groups sued Deutsche Bank for race discrimination in 30 metropolitan U.S. areas, claiming that Deutsche Bank purposely failed to maintain its foreclosed bank-owned homes in middle and working class African American and Latino neighborhoods, while properly maintaining similar bank-owned homes in white neighborhoods. The lawsuit[4] included photographic evidence showing a pattern of discriminatory conduct in the maintenance of foreclosed homes. According to the NFHA:
The NFHA conducted an investigation of Deutsche Bank's practices and examined 1,1,41 properties owned by Deutsche Bank after foreclosure collected evidence on 39 objective aspects of the routine exterior maintenance of each property investigated, and accumulated over 29,900 photographs of the pertinent conditions, such as unsecured doors, damage to steps, handrails, windows and fences, graffiti, the accumulation of trash and mail, and overgrown grass and shrubbery. Plaintiffs'investigation also documented marketing deficiencies, such as the failure to post or maintain appropriate "For Sale" signage, permitting negative signage and warnings to deter prospective buyers (e.g. "Bank-owned," "Auction" or "Foreclosed" signs), failure to identify a real estate agent/broker or point of contact, failure to adequately display property listings on Realtor/Multiple Listing Services or other web sites, and displaying on-line or other auction sites in different states in lieu of utilizing a local real estate agent/company familiar with the neighborhood. Plaintiffs' investigation revealed that there are highly significant disparities in the routine exterior maintenance and marketing of the Deutsche Bank-owned homes in communities of color as compared to white communities.
In a listing in a low income neighborhood in West Palm Beach, FL, current as of September 1, 2018, the listing described the Deutsche Bank owned home as follows: "Roof Needs to be Replaced; Ceiling Falling Through the House and Floor Has Structural Problems…The House Should be Demolished and Sold as a Vacant Lot."[5] Deutsche Bank got a Final Foreclosure Judgment on this property in February 2018 for $288,603. The charges included $19,640 for property preservation. [6]
Deutsche Bank frequently kept foreclosed houses off the market for three to five years after it obtained a foreclosure judgment to delay reporting large losses to investors. Because of the poor maintenance, and resulting deterioration, the houses often sold for less than half of the foreclosure judgments. In many foreclosures resulting in judgments of $1 million or more, Deutsche Bank subsequently sold the homes for less than $500,000, often losing $500,000 to $1.1 million on each resale. These large losses were indicators that the lenders were unrealistic about home values. The homes that backed the loans sold to the trusts were over-valued. The securities companies that formed and sold the trusts ignored their due diligence obligations. Securities companies made money by "shorting" or betting against the products they were marketing to investors.
In the majority of the foreclosure cases, Deutsche Bank itself lost no money because it was acting as trustee of a mortgage-backed trust. Deutsche Bank itself originated over $20 billion in mortgage loans through subsidiaries which it sold to trusts. The subsidiaries included Chapel Funding LLC, DB Products, and MortgageIT, Inc. Deutsche Bank also sponsored trusts through its affiliate, DB Products. From 2004 to 2008, DB Products sponsored 128 RMBS trusts under the names ACE, DBALT, and DMSI, securitizing over $100 billion in mortgage loans.
Deutsche Bank acted as trustee for several thousand trusts holding trillions of dollars in home loans. Lawsuits by the government and by investors followed. In 2011, the Federal Housing Administration, the world's largest mortgage insurer, sued Deutsche Bank and MortgageIT, alleging that the MortgageIT loans never qualified for federal insurance.[7] At the time of the filing, HUD had paid more than $386 million in claims on more than 3,100 of its FHA-guaranteed mortgages defaulted. More than two-thirds of those mortgages defaulted within two years of origination. When the lawsuit was filed, Manhattan U.S. Attorney Preet Bharara said that Deutsche Bank and MortgageiT "indulged in the worst of the industry's reckless lending practices."[8] The complaint sought treble damages on $386 million in claims as well as punitive damages and fines. Deutsche Bank settled the claim for $202 million in 2012.
One month after filing the MortgageIT lawsuit, the Federal Housing Finance Agency ("FHFA"), as Conservator for Fannie Mae and Freddie Mac, filed a lawsuit against Deutsche Bank alleging violations of federal and state securities laws in connection with securities sold to Fannie Mae and Freddie Mac.[9] The case settled in December 2013 for $1.9 billion, with Deutsche Bank paying $1.63 billion to Freddie Mac and $300 million to Fannie Mae.
The largest settlement by Deutsche Bank of a lawsuit brought by the government came in January 2017 when Deutsche Bank agreed to pay $7.2 billion for misleading investors in the sale of mortgage-backed securities. Deutsche Bank agreed to pay a $3.1 billion civil penalty under the Financial Institutions Reform, Recovery and Enforcement act and $4.1 billion in relief to homeowners, distressed borrowers and affected communities. As a part of the settlement, Deutsche Bank admitted that it made false representations and omitted material information from disclosures to investors about the loans included in RMBS securities sold by the Bank.
In one of the largest private entity lawsuits, giant investment firms BlackRock, Inc. and Pacific Investment Management Company ("PIMCO") sued Deutsche Bank in June 2014. BlackRock and PIMCO also included 564 trusts with over $568.2 billion in original loan balances as defendants. The lawsuit alleged that Deutsche Bank ignored pervasive deficiencies in the loan pools from 2004-2008 and failed to enforce repurchase agreements that were supposed to protect investors from defective loans.[10] Investors claimed that they had lost nearly $90 billion and were likely to incur substantial more losses.
According to the complaint, the loan originators ignored prudent underwriting standards and identified eight originators in particular who together originated over $333.7 billion in loans for the trusts named in the lawsuit: IndyMac Bank FSB, New Century Financial Corporation, Argent, American Home Mortgage Corporation, Impac Funding Corporation, Option One Mortgage Corporation, Fremont Investment and Loan and Wells Fargo. The complaint also alleged that five sponsors in particular were liable for selling the loans to investors: Morgan Stanley, RBS Greenwich, First Franklin, Barclays and Goldman Sachs and that Deutsche Bank knew that the trusts were filled with defective loans and knew of pervasive violations by the loan servicers. Three entities serviced over $283.1 billion in loans: Wells Fargo, IndyMac and Countrywide.
Pension funds were among the first to sue Deutsche Bank in claims related to mortgage-backed securities. The Massachusetts Bricklayers and Masons Trust Funds filed a class action lawsuit[11] alleging the securities that they bought were riskier than represented. The case settled for $32.5 million. In another case including Deutsche Bank as a defendant, The New Jersey Carpenters Health Fund, as lead plaintiff, and the Iowa Public Employees' Retirement System, a class representative, were among many pension funds that recovered $165 million in March 2017 in connection with losses from securities issued by NovaStar Mortgage.[12] A similar lawsuit involving losses from RALI mortgage-backed securities bought by the New Jersey Carpenters Health Fund settled for $335 million in July 2015.[13]
Commerzbank AG sued Deutsche Bank and fur other banks in December 2015 alleging that Deutsche Bank breached its duties regarding the delivery of the mortgage files to the trusts and its duties regarding providing notice of defaults to investors.[14] According to the suit, Deutsche Bank failed to act prudently when defaults occurred and failed to act when the servicers breached their duties as well. The Commerzbank lawsuits were still working their way through the courts in 2018. Similar suits were filed by the FDIC, and by the National Credit Union Administration Board,[15] Phoenix Light SF Limited and Blue Heron Funding,[16] Royal Park Investments[17] and other investors.
While courts frequently rejected class certification in securities cases, a judge granted class certification in an ERISAcase brought by a large group of Deutsche Bank employees.[18] The employees alleged that Deutsche Bank and others violated their fiduciary duties by including in the company 401(k) plan high-cost investments that profited the bank. Deutsche Bank settled the case in August 2018 for $22 million.
In addition to the many securities lawsuits, Deutsche Bank also faced a lawsuit by the U.S. accusing it of tax fraud.[19] The U.S. Attorney for the Southern District of New York alleged that Deutsche Bank used "a web of shell companies and calculated transactions" to evade paying tens of millions of dollars in taxes.[20] In 2010, Deutsche Bank reached a non-prosecution agreement while admitting it committed criminal wrong-doing by creating fraudulent tax shelters known as Flip, Blips, Cards and Cobra. Deutsche Bank paid $554 million in penalties.
Deutsche Bank also agreed to pay millions to settle Libor (London Interbank Offered Rate) rigging lawsuits. In April 2015, the Justice Department announced that DB Group Services agreed to plead guilty to wire fraud regarding rate manipulation. Deutsche Bank was allowed to enter into a deferred prosecution agreement. Deutsche Bank agreed to pay $2.5 billion to settle the wire fraud charges including $800 million to the U.S. Commodities Futures Trading Commission; $775 million to the Justice Department; and $600 million to the New York Department of Financial Services. Investigators produced emails and online chats showing Deutsche Bank employees requesting changes in the rate to increase their own profitability.[21] The New York Department of Financial Services ordered Deutsche Bank to terminate several high-ranking employees involved in the scheme.
In January 2017, Deutsche Bank was fined $630 million by authorities in the U.S. and the U.K. who alleged that Russia used Deutsche Bank to move $10 billion out of the country because of Deutsche Bank's failure to control money laundering. According to the U.K.'s Financial Conduct Authority, Deutsche Bank's anti-money laundering controls were not strong enough to prevent $10 billion from being transferred out of Russia to offshore accounts.
In August 2018, Deutsche Bank settled a case brought by a former executive, Nizar Al-Bassam who was fired after an investigation into the bank's hiring practices in Russia and whether the bank breached anti-bribery rules by hiring the children of Russian officials to secure new business. Deutsche Bank agreed to pay Al-Bassam his $4.7 million deferred compensation package which it had withheld.
In June 2018, Deutsche Bank agreed to pay $205 million to settle an investigation by New York's banking superintendent of foreign exchange trading violations by Deutsche Bank. The Superintendent alleged that employees at Deutsche Bank participated in chatrooms where they shared confidential client information, and discussed the manipulation of foreign exchange prices. Traders also were accused of misleading customers by deliberately "underfilling" customers trade orders in order to keep part of a profitable trade for the bank's own account.
In the investigations of banks and securities companies that sold bad loan pools to investors, a few Deutsche Bank employees became famous. The role of Greg Lippmann, a trader for Deutsche Bank, was analyzed in the Senate Committee Report on the causes of the financial crisis. The committee examined whether certain insiders knew that the mortgage-backed securities market was on the verge of collapse as early as 2005. The Committee obtained Lippmann's emails in which he made statements abut the poor quality of the underlying loans including "This bond blows" regarding an RMBS security issued by Long Beach. Lippman also said "half of these are crap" regarding another loan pool. Lippmann bragged "I can probably short this name to some CDO fool," and "I don't care what some trained seal bull market research person says this stuff has a real chance of massively blowing up."
In addition to disparaging the market, Lippmann and Deutsche Bank acquired a $10 billion short against the subprime market. When the market collapsed, those funds that suffered some of the biggest losses used Lippmann's comments to show that Deutsche Bank had knowledge of the risks in the subprime mortgage market, but failed to disclose these risks to investors.
On September 11, 2017, the U.S. filed a civil fraud complaint against Paul Mangione, the former head of subprime trading for Deutsche Bank.[22] The United States alleged that Mangione engaged in a fraudulent scheme to misrepresent the characteristics of loans backing two RMBS trusts that Deutsche Bank sold to investors, resulting in hundreds of millions of dollars in losses. The lawsuit was brought pursuant to the Financial Institutions Reform, Recovery and Enforcement Act of 1989 (FIRREA).
The complaint alleged that Mangione engaged in a fraudulent scheme to sell ACE 2007-HE4 and ACE 2007-HE5 by misleading investors about the quality of the loans backing the securitizations and that Mangione misled investors about the origination practices of Deutsche Bank's wholly-owned subsidiary, DB Home Lending, the primary originator of loans included in the deals. Mangione approved offering documents for these trusts even though he knew they misrepresented key characteristics of the loans, including compliance with lending guidelines, borrowers' ability to pay, borrowers' fraud and appraisal accuracy.
According to the government, the HE4 and HE5 offering documents also falsely represented that DB Home Lending had "developed internal underwriting guidelines that it believe[d] generated quality loans" and that DB Home had instituted a quality control process that "monitor[ed] loan production with the overall goal of improving the quality of loan production." These representations were designed to instill trust in DB Home's underwriting processes. According to the complaint, Mangione knew that these statements were false and his conduct was deliberately fraudulent. The complaint was still pending as of September 1, 2018.
In February 2018, Benjamin Solomon, the head trader for Deutsche Bank's Commercial Mortgage-Backed Securities agreed to pay $165,000 and to serve a 12-month suspension from the securities industry. Deutsche Bank agreed to pay a $750,000 penalty in the case and repay $3.7 million to customers. According to the SEC's order, customers overpaid for CMBS securities because the bank misrepresented the price the bank paid for the securities. The SEC found supervisory failures by Solomon who allegedly failed to take appropriate action after he became aware of false statements made to customers by Deutsche Bank traders.
No Deutsche Bank officers, or other big bank officers, were criminally prosecuted by the U.S. Department of Justice. The reasons for the failure to prosecute have been analyzed. In February 2011, Matt Taibi wrote "Why Isn't Wall Street in Jail" for Rolling Stone. In 2013, Frontlineran a segment called, "The Untouchables." Ted Kaufman wrote "Why DOJ Deemed Bank Execs Too Big to Jail" for Forbes in July 2013. David Dayen wrote "Eric Holder Didn't Send a Single Banker to Jail for the Mortgage Crisis. Is This Justice?" for The Guardian in September 2014. William D. Cohan examined for the Atlantic "How Wall Street's Bankers Stayed Outof Jail," in September 2015 and for The New York Times, "A Clue to the Scarcity of Financial CrisisProsecutions," in July 2016. Patrick Radden Keefe wrote "Why Corrupt Bankers Avoid Jail," for The New Yorker in July 2017. Brandon Garrett wrote "Too Big to Jail: How Prosecutors Compromise with Corporations," Harvard University Press, November 2014, and Jesse Eisenger wrote "The Chickenshit Club," Simon & Schuster, July 2017.
Lanny Breuer, the assistant Attorney General for the Criminal Division of the U.S. Department of Justice and his boss, former Attorney General Eric Holder, have returned to Covington & Burling, LLP and are considered elite attorneys, among the top 100 attorneys in the country. Eric Holder said he will decide about a 2020 presidential bid early next year.
[1]In 2012, the New York Attorney General settled with the law firm Steven J. Baum P.C. requiring Baum and his firm to pay $4 million in penalties, costs and fees. The Baum firm was the largest foreclosure firm in New York State, filing over 100,000 foreclosure cases between 2007 and 2010, often representing Deutsche Bank. In 2014, the Florida Supreme Court disbarred David J Stern. The Stern law firm handled more than 200,000 foreclosure cases statewide, employed over 1,500 employees and was one of the primary firms used by Deutsche Bank to foreclose in Florida. The ABA Journal reported (January 13, 2014) that the Stern firm grossed $260 million annually. The Law Offices of Marshall Watson, another firm frequently used by Deutsche Bank in Florida, agreed to pay $2 million to settle foreclosure fraud charges. Three attorneys from the firm were suspended.
[2]Megan O'Matz, "German Bank Under Fire in Florida and at Home," Sun Sentinel, July 15, 2012. The three counties were Broward, Miami-Dade and Palm Beach.
[3]The People of the State of California and the City of Los Angeles v. Deutsche Bank NationalTrust Company et al., Superior Court, State of California, BC 460878.
[4]National Fair Housing Alliance et al. v. Deutsche Bank, et al.,Case 1:18-cv-00839, U.S. District Court, Northern District of Illinois, February 1, 2018.
[5]Listing on Zillow for 717 37thSt., West Palm Beach, FL.
[6]Case 2017-CA-007056, Palm Beach County, FL.
[7]USA v. Deutsche Bank, et al., 11-02976, (S.D.N.Y. August 2011).
[8]Jonathan Stempel, "U.S. Sues Deutsche Bank in Mortgage Fraud Case," Reuters, May 3, 3011.
[9]Federal Housing Finance Agency v. Deutsche Bank AG et al.,11:06919 (S.D.N.Y. September, 2011).
[10]BlackRock Balanced Capital Portfolio, et al. v. Deutsche Bank National Trust Company, et al.,Case 1:14-cv-09367-JMF-SN, Southern District of New York.
[11]Massachusetts Bricklayers and Mason Trust Funds, et al. v. Deutsche Alt-A Securities, Inc., et al., 08:03178 (E.DN.Y. April 2010).
[12]New Jersey Carpenters Health Fund, et al. v. Royal Bank of Scotland, PLC, et al.,No. o8-cv-5310 (S.D.N.Y. March 2010).
[13]New Jersey Carpenters Health Fund, et al. v. Residential Capital, LLC, et al., No. 09-8781 (S.D.N.Y.).
[14]Commerzbank AG v. Deutsche Bank National Trust Company, 15:10031 (S.D.N.Y. December 2015).
[15]National Credit Union Administration Board, et al. v. Deutsche Bank National Trust Company, et al.,14:08919 (S.D.N.Y. November 2014).
[16]Phoenix Light SF Limited et al. v. Deutsche Bank National Trust Company(14:10103, S.D.N.Y. December 2014).
[17]Royal Park Investments SA/NV et al. v. Deutsche Bank National Trust Company(14:04394, S.D.N.Y June 2014).
[18]Ramon Moreno, et al. v. Deutsche Bank Americas Holding Corp., et al.(1:15-cv-09936 E.D.N.Y).
[19]United States of America v. Deutsche Bank A.G., et al.,(14-cv-9669 S.D.N.Y December 2014).
[20]See Press Release, U.S. Attorney's Office, Southern District of New York, January 4, 2017.
[21]Ben Rooney, "Deutsche Bank in $2.5 Billion Settlement Over Interest Rate Manipulation," CNN Money, April 23, 2015.
[22]United States of America v. Paul Mangione, Case 2017-CV-5305 (E.D.N.Y. September 2017).
Now that she controls the House Financial Services Committee, Congresswoman Maxine Waters is preparing to finally make good on her threats to subpoena Deutsche Bank to get the "full story" on President Trump's financial relationship with the only major bank that would lend to him following a series of Trump company bankruptcies during the 1990s. And as Waters prepares to let the subpoeanas fly, what better way to alert the broader financial industry that she is not playing around than to sit for an interview with CNBC's chief political correspondent John Harwood?
During a brief interview that aired on Friday, Waters told Harwood that her goal is nothing short of exposing Deutsche Bank's involvement in helping the president launder money and avoid taxes (allegations that haven't been substantiated by any media reports or Mueller probe indictments – or any information that has found its way into the public awareness over the past two years).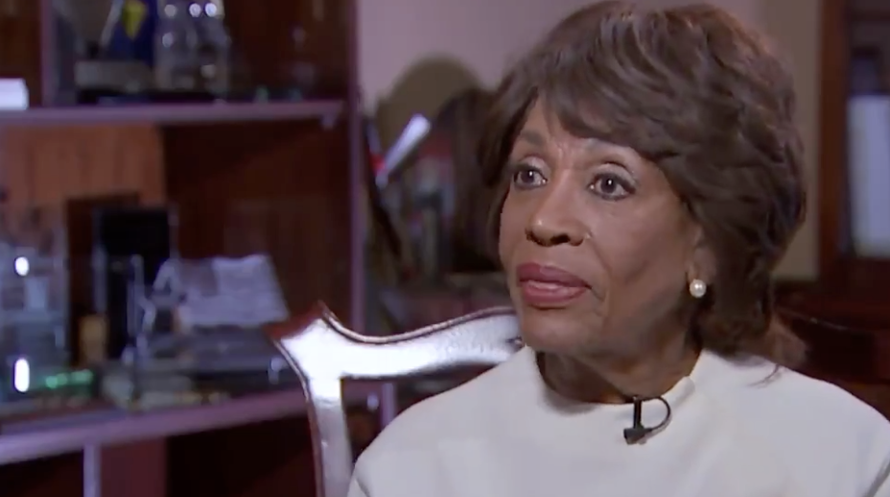 According to Waters, "we already know that Deutsche Bank is one of the biggest money laundering banks…in the world." And there have been rumors about Trump possibly committing financial improprieties during his business dealings. So, in Water's estimation, the probability that her probe will uncover some kind of smoking gun is probably pretty high.
John Harwood: What is your objective in the joint investigation that you plan with Congressman Schiff of Deutsche Bank?

Maxine Waters: We know that Deutsche Bank is one of the biggest money laundering banks in the country, or in the world perhaps. And we know that this is the only bank that will lend money to the president of the United States because of his past practices. He won't show his tax returns and we have a certain information that leads us to believe that there may have been some money laundering activity that might have been connected with Mr. Manafort, with some people in his family.

John Harwood: Do you believe that money laundering has been a significant part of President Trump's business?

Maxine Waters: I know that there are a lot of rumors. I think we need to learn more about the finances of the president of the United States, and he's hiding that information from us. He's not disclosing that information. And I think we need to delve deeper into that and find out what is going on and whether or not money laundering has been involved and whether or not there are connections with the oligarchs of Russia.
So does Waters believe Trump is guilty of corruption (which would imply wrongdoing following his inauguration)? She refused to answer the question directly, but instead listed off a litany of Trump's financial foibles, from his bankruptcies to reports that he stiffed contractors and subcontractors.
John Harwood: Do you believe, based on what you know now, that the president is corrupt?

Maxine Waters: I believe that this is a problematic president who has proven that he has taken advantage of others in the past. I know that he was fined and I do know that the attorney general of New York made him reimburse at least $25 million. We know that he has had bankruptcies. We know that there are a lot of stories he hasn't paid contractors, he hasn't paid subcontractors. We know a lot about the history of this president and it doesn't look good. … So, we think that in addition to what Mr. Mueller is doing and now what we are able to do with our subpoena power, we'll find out more and we'll be able to answer that question directly.
In a surprising show of mettle, Harwood confronted Waters about the corruption allegations that have dogged her political career.
John Harwood: Now, do you think that the fact that you've taken some criticism about conflicts of interest — you were on a watchdog group's list of most corrupt members of Congress — does that undercut your ability to pursue these issues?

Maxine Waters: No, absolutely not. First of all, all of the questions were answered, I was totally exonerated and found not to have done anything wrong. And the group that was involved in that was not an official group. It was simply a nonprofit operation that decided that it was going to take on the responsibility of choosing members that they didn't necessarily like. But whatever they tried to do to me didn't work because it was proven that I had done nothing wrong.
But he followed that question up with a softball: Asking Waters what she thinks of some of the media's favorite sobriquets for the California Congresswoman.
John Harwood: So you think the "Angry Maxine," the "Kerosene Maxine," has been exaggerated?

Maxine Waters: I don't know about those labels. I do know this, that oftentimes right-wing conservatives will label you, they will call you names. I think you have to look at where it comes from. If it comes from people who are diametrically opposed to me and my philosophy, and what I care about and what I've worked on, then it is not credible, and so I pay no attention to that.
That's a lot of talk based on so little actual evidence. With this in mind, we can't help but wonder: What is Waters going to say if her probe comes up empty handed?
"We know that Deutsche Bank is one of the biggest money-laundering banks in the country; in the world, perhaps," Rep. Maxine Waters discusses how the bank could be connected to the Trump administration with @JohnJHarwood. https://cnb.cx/2DNK8Mk